Making Big Data Accessible in HR
If you work in HR, you've most likely heard of the term "big data." It's a common term used to describe the massive amounts of information which is generated in everyday life. This data is getting so "big" that we need different tools to help us manage it to make more educated decisions.
We recently read a Workforce.com article entitled, "The Promise of Big Data in Workforce Management" by Sarah Fisher Gale. You can read the full article here and we highly recommend it. The article describes how big data can help HR in many of the facets of the industry, including talent management, recruiting, workforce analytics, etc. It also explains how analytics can help HR departments refocus their business goals and generate results.
The article also states that there are some obstacles with big data. Most HCM systems are from different vendors, and there's no method of integrating the data to see the big picture. As a response to this challenge, we're seeing HR department making strides by investing in technology vendors that can combine this data for them. These vendors can also provide reports, analytics, intelligence and benchmarking to help you interpret all of your data.
For example, here at Optis, we have an extensive data warehouse. Our warehouse includes over 8 million employees and millions of claims. Customers use this data to compare their metrics across various categories (industries, geographical regions, company size) you name it. Currently, we have 10,000 active users on our systems and over 2 million reports run annually. Now that's making big data accessible.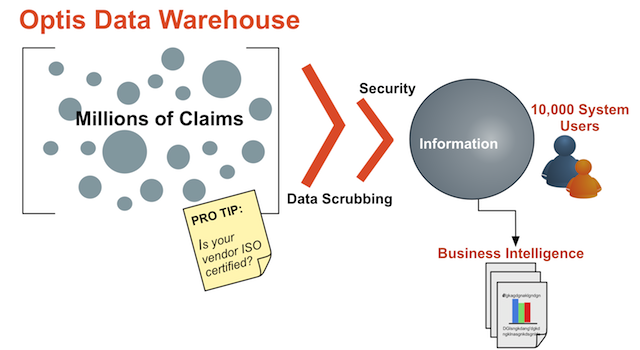 But, what are the benefits of knowing all of these data metrics, you ask? Well, the broad answer is getting a better handle on how your people data gives you knowledge and understanding that your company can use to create cost-savings employee benefit programs, increase productivity, identify workforce trends and ultimately make better decisions.
Additionally, you gain other benefits that will help you in the short term. First, administrative efficiency will increase with all of your data integrated in a paperless system. You'll also have readily accessible data to support your business case. Your programs will improve and your HR team will have more time to focus on additional business goals and initiatives you've been meaning to get around to.